Share Your Experience
All testimonials are subject to review.
1968 Camaro Z-28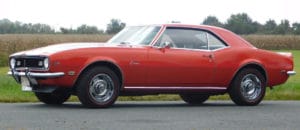 Over the years I have collected a number of cars and as will all things you must eventually pass them along. He is a car enthusiast who is honest and trustworthy. He takes care of everything and make the entire process effortless. I highly recommend him.
~ Dave Nelson, Seller, Annapolis, MD
December 2018
1951 Chevy Custom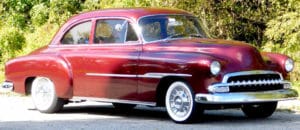 This was my first experience with J.D. and I would [buy] form him anytime, he is very honest and very true about the car.. you can't get any better. You can call me @ 7278579900 for full report.
~Jake MacDonald, Buyer, Spring Hill, FL
December 2018
1940 Chevrolet Master Deluxe Sedan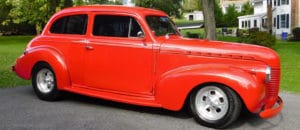 I'm a caregiver and had no time to sell the car. Plus I was worried about hiring a stranger. JD took care of everything. Pictures, video, listing and showing to [the] buyer. (I say, buyer, because he sold it to the first person that wanted to see the car).
He is a nice person and totally trustworthy! He knows what he is doing. He took all the stress off my shoulders and I am grateful.
~ Helen Blum, Seller, Joppa,Md
December 2018
Multiple Cars + 1 Motorhome + 1 Engine
What he says he'll do — he does, with professionalism!
He demonstrates 'transparency' and honesty to both the seller and to the buyer. He's sold a motorhome and multiple cars for me and I have absolutely no qualms about dealing thru and with him and will continue to do so!
~ Rick Nelson, (Buyer) Fairfield, PA
December 2018
1971 Chevrolet Chevelle Convertible
JD was such a great help to me. As a widow with no idea how to sell my late husband's antique car, JD alleviated a lot of stress for me. He put together an awesome marketing video, worked with me to find a minimum price we would be comfortable with, and answered the many, many questions potential buyers had (which I would have had no idea how to answer). It was an emotional sale for me, so having JD step in and do such a professional job and making it so simple for me at such a reasonable cost was truly invaluable. I would highly recommend JD and would be happy to answer any questions directly if needed. JD can give you my contact info.
~ Laura Ann Matthews, (Seller) Kensington, MD
December 2018
1939 Plymouth Pro-Touring Street Rod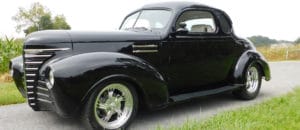 I have been building hot rods and motorcycles for over 50 years. Having bought and sold many vehicles, I have encountered all types of buyers and sellers. It was an absolute pleasure to find someone with the honesty and integrity of J.D. I would recommend him to friends and family without reservation.
~ Gary French, (Buyer) Galt, California
November 2018
1987 Dodge RAM D-100 Light Duty Pickup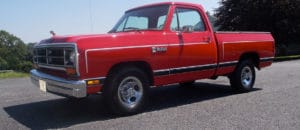 JD sold my red Dodge D100 last fall to a buyer in Australia, for a reasonable price. I never had to waste my time answering a bunch of silly questions, Kurzmann's Auto Brokerage takes all the hassle out of selling your vehicle. I would recommend JD if you are tired of the regular BS! – Dave, (Seller) MD
December 2017
1965 Pontiac GTO Convertible (Tribute)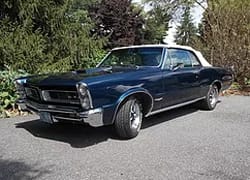 J.D. took away all of my scepticism by delivering what he promised.Our GTO sold in 15 days and I basically did nothing except collect the mone. ~Sue (seller), MD
I had never purchased a car on the internet. J.D. was very helpful and honest about the condition of the car. I love it. It's exactly as described. ~Ryan (buyer), RI
---
1955 Oldsmobile Holiday 98 Sport Coupe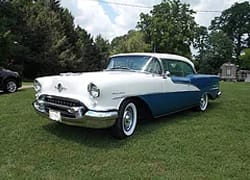 This was the first time I purchased a car without seeing it first. J.D. instilled the confidence I needed to buy the Olds and have it shipped to CA. When the car arrived, it was better than I ever dreamed.
~Don (buyer) CA.
---
1973 Chevrolet Caprice Classic Convertible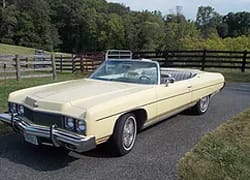 …I could not believe how fast my car sold, less than a day. And at a great price too!!!!….J.D. was very professional….All I did was sit back let him handle all of the details and collect the money…….Jim (seller) MD.
---
1956 Cadillac Convertible (Series 62)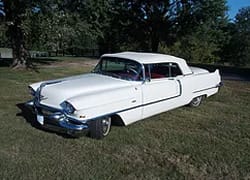 …Being a buyer overseas, I had to be sure what I was getting into…….J.D. was exact with his description……no surprises. ~Jorg (buyer) Sweden
---
1966 Ford Shelby Cobra (Replica)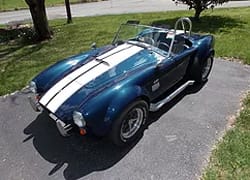 … J.D. approached me at a local car show and described his services………He exceeded my expectations by selling my Cobra and delivering a check……. All within 2 weeks!!!!……Highly recommend………Wayne (seller) MD
---
2008 Holiday Rambler Imperial 500 Bali IV Motorcoach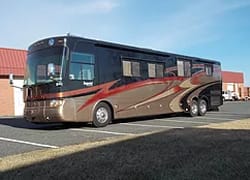 ……….I tried listing my Holiday Rambler with 3 other brokers over a 4-year period and not one of them could sell my motorcoach. J.D. did it in less than 30 days!!!!…..Thank you so much!!!………Jim (seller) MD.
---